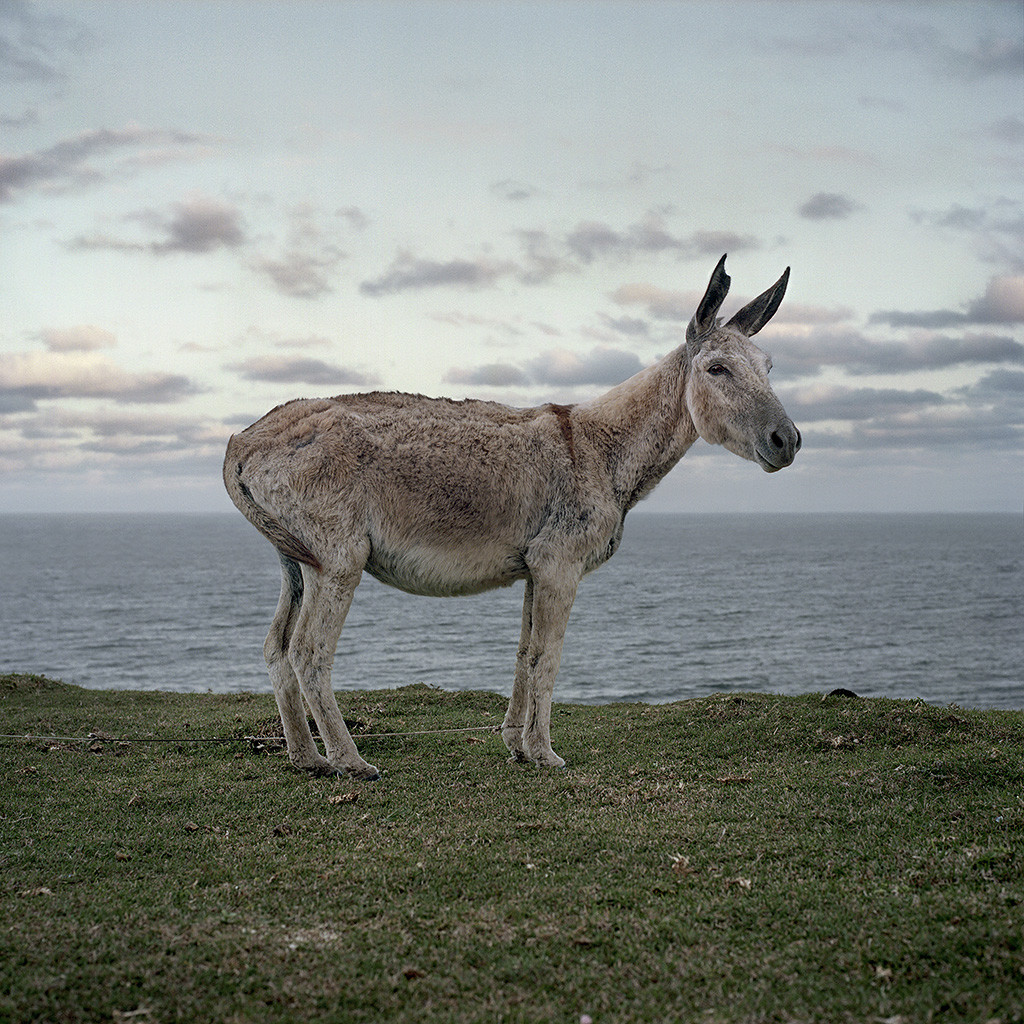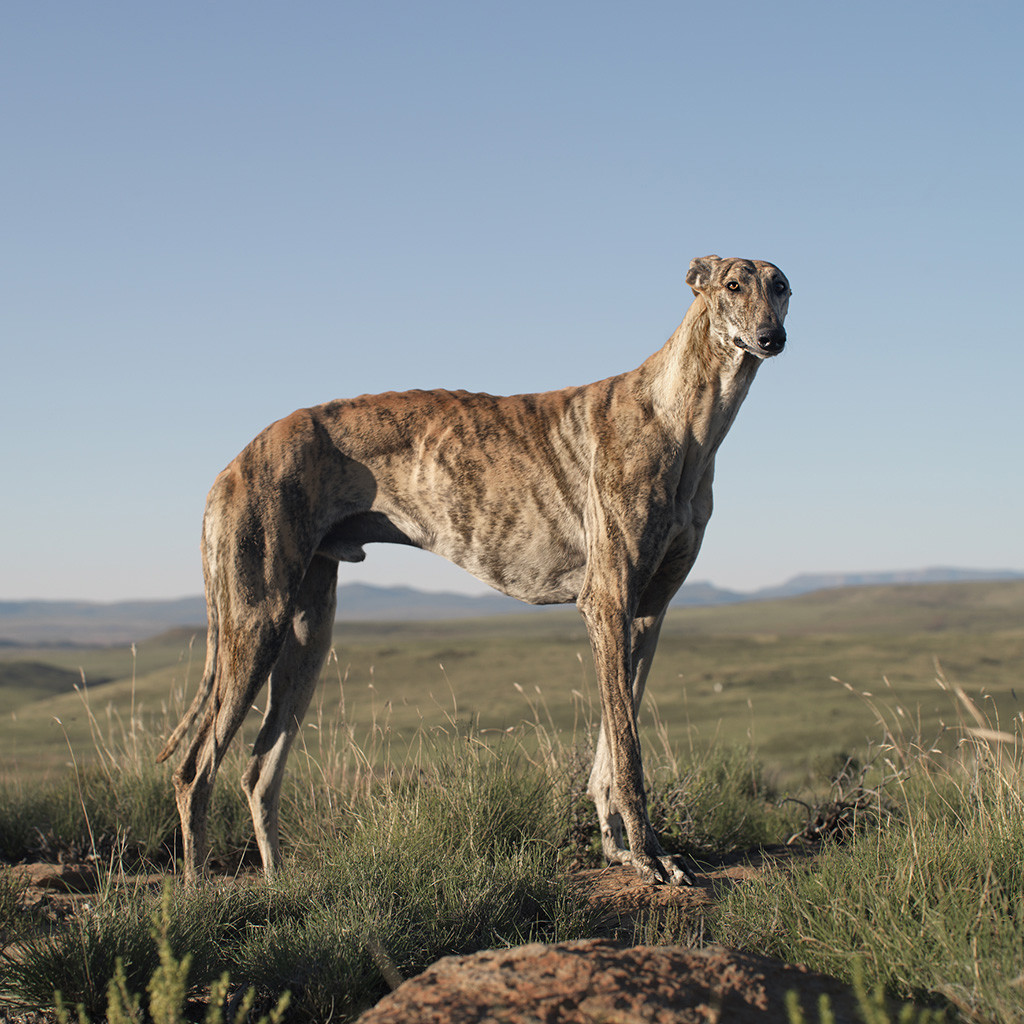 PROGRESSION FROM A FIRST ENCOUNTER
By Daniel Naudé
---
This book began on a road trip from Cape Town to Mozambique when, in the desert plains of the Karoo, I saw a feral Africanis dog. I stopped the car and, for a split second, the dog stared back at me. Then it lurked away with its mouth foaming, reminding me of a character from the tales of JRR Tolkien. It was a case of fiction meeting reality and freedom denying captivity.
That first powerful moment of eye contact left me speechless and full of emotion. My eyes followed the animal as it trotted off towards the horizon, leaving me behind as the outsider. Confronted by this expression of rebellion, I was struck by how the dog, barely in control but guided by nature, has been a vehicle for mankind's domination. The naturally crossbred Africanis, its ancestors depicted in the hieroglyphics of the Egyptians, seemed to reflect our culture and identity in the complex South African landscape in a peculiar way.
I started taking a series of photographs of these dogs. Each portrait offered me a similarly ecstatic encounter, and my goal was to achieve that intense presence and experience of the first dog throughout the series.
This led to many road trips, running after dogs in the veld while discovering how best to portray them. In the process, I was continuously surprised by nature, light, life in the veld, and the landscape itself. My time was not my own but was dictated by the circumstances of my surroundings. I was determined to get the shot regardless, and it often took two to three hours of walking and approaching the animals and framing the image. I ended up sleeping in my car, at police stations, or accepting the kindness of strangers who invited me into their homes.
After completing the initial Africanis project, I wanted to rephotograph the same dogs again. I set about tracing them in different parts of South Africa, and slowly discovered that many of them were dead. A friend in Barkly East in the Eastern Cape told me he had found one of the dogs lying by the side of the road, killed by a car. In Strydenburg in the Northern Cape, after many conversations and showing people small prints of specific dogs, it emerged that they had been found dead in the veld, assumed to have died of 'katte griep', or canine parvovirus. I could not imagine the proud dogs that I had photographed, standing like statues in the landscape, now lying dead.
I was influenced enormously in my approach by the British artist-explorer Samuel Daniell (1775-1811). In 1801 he set out on a journey from Cape Town to Leetakoe (today Dithakong in the North West Province) to document the landscape, people and animals. This resulted in the famous folio, African Scenery and Animals, published in 1804-5. I followed his route and read the accounts and notes his companions wrote on the way. They were attacked by buffalos and hippos; my encounters with animals were much tamer. Although I photographed some landscapes en route, my eye was focused on feral and domestic animals. I was interested in how people lived with domesticated and livestock animals, and the way that the histories of people and animals overlapped in the landscape.
My way of working turned to an exploration of episodes in South African history that involved domestic animals. Conversations with people during my road trips brought to my attention a wealth of stories and information about how animals can represent and be symbolic of a culture. The Afrikaner bull was effectively the 'engine' that drove the Great Trek, and when I saw the Boer farmer, Ben Fyfer, seated in his study with the taxidermied head of a traditional Nguni bull above him, history seemed to collapse into the present.
It was the epic tale of the Xhosa cattle killings of 1856 that led me to photograph the Xhosa people's cattle on the seashores of the Eastern Cape. Nongqawuse's prophecy – that they should kill all their cattle and destroy all their crops, and then the white settlers would be driven into the sea and the ancestors would bring them healthy animals – echoed in my mind when I saw these cattle chewing their cud on the shores.
I learned that Nguni cattle are known for their unique skin patterns, which are identical on both sides of an animal. One cannot observe the mirrored pattern when the animal is alive; it only becomes evident once the skin has been tanned. When I had the rare opportunity of photographing a pair of identical Nguni twin calves, it was as if I had found, paradoxically, a duplicate of something individual and unique.
I was also drawn to photograph sheep such as the Merino, an iconic animal of the Karoo, as well as Persian sheep and the cross-bred Nguni-Persian. These animals came into being through human intervention, reflecting the cultural, political and economic circumstances that defined their origin. We tend to forget this when we look at these strangely biblical animals.
Farmers understand the relationship of predators and prey as a continuous cycle. In lambing season, farmers wake each morning wondering if thieves or other night predators have killed any of their livestock. The lambs must survive to an age when they will be slaughtered as food for man, the ultimate predator. The farmer protects and nurtures his livestock against the event of a natural cycle epitomised by the hunt, only to slaughter them, ensuring an income and thereby his own survival.
This paradox is illustrated in the photograph of a taxidermied caracal eating a lamb belonging to Fransie van der Merwe, on the Waterkrans farm near Richmond. It became clear to me that the roles of predator and prey, as personified by the animals in George Orwell's Animal Farm, are not as clearly defined as we would like to think. Like humans, Orwell's animals adapt the rules to suit the needs of the dominant voice. Eventually, they disobey their most important rule – 'No animal shall kill another animal' – and human and animal become equally corrupt.
I started seeing domesticated animals in ways I never anticipated. A pivotal photograph in this regard is David Tieties with his three-day-old donkey. I first saw David riding on his donkey cart pulled by two donkeys. Next to him was a cage with three puppies and running underneath in the shade of the cart was a dog tied to a rope. Beside him was also a green straw bag with the snow-white head of a baby donkey sticking out. It was an extraordinary sight. I stopped and asked if I could take a portrait of him standing in the landscape with his baby donkey, and he immediately nodded his head and said yes. When he climbed down from the donkey cart, I saw that he was only about 1.4 metres in height. We walked a short distance from the donkey cart into the landscape where I took his portrait.
The way David holds the foal reminds one of the control that humans have over animals. The position of David's head above the horizon makes him look powerful and proud. Yet, there is an irony in that his newborn foal will, in a few months' time, carry him around in the barren land of the Karoo, where people rely on these animals for transport as well as companionship. It is also ironic that David knows the exact age of both the donkeys that pull his cart, but does not know his own date of birth or age. While taking the photograph, I was overwhelmed by the tenderness of the connection between David and his three-day-old donkey. Man, animal and landscape are one in this image.
My encounters with animals, and the resulting photographs, reflect the mutual surprise, wonder and fascination that both man and animal seem to experience in confronting each other. Is the animal following my script, in a performance of my making, or its own? Is there a script at all? Each animal's pose or 'performance' went beyond any preconceived ideas I may have had, and in reality these encounters were far more compelling than can be conveyed. Each captured moment is a glimpse of a 'meeting point' between the animal and myself in the natural realm, experiences that fuelled me during the working process.
I do not know what animals think – they are as silent as my photographs. Yet, I recognise my own being in theirs. Nothing I have read about animals can sufficiently account for the intensity I experienced in these encounters. For me, the presence of an animal remains unfathomable, unexplained, yet incredibly potent: perhaps a threat – the presence of a predator; perhaps that of a protector.
Top